TEKTON 16 Inch Groove Joint Pliers (4-1/4 in. Jaw) | 37526
#Ad: As an Amazon Associate, I earn from qualifying purchases.
Product Description
Sharp, angled pipe-wrench-style teeth offer a sure bite. The pliers have an undercut tongue and grooves interlock for superior joint strength. The nut and bolt fastener allows fine‐tuning of operating tension. You get slim, nonslip grips provide comfort and control without adding bulk. 4-1/4 in. jaw capacity and made in USA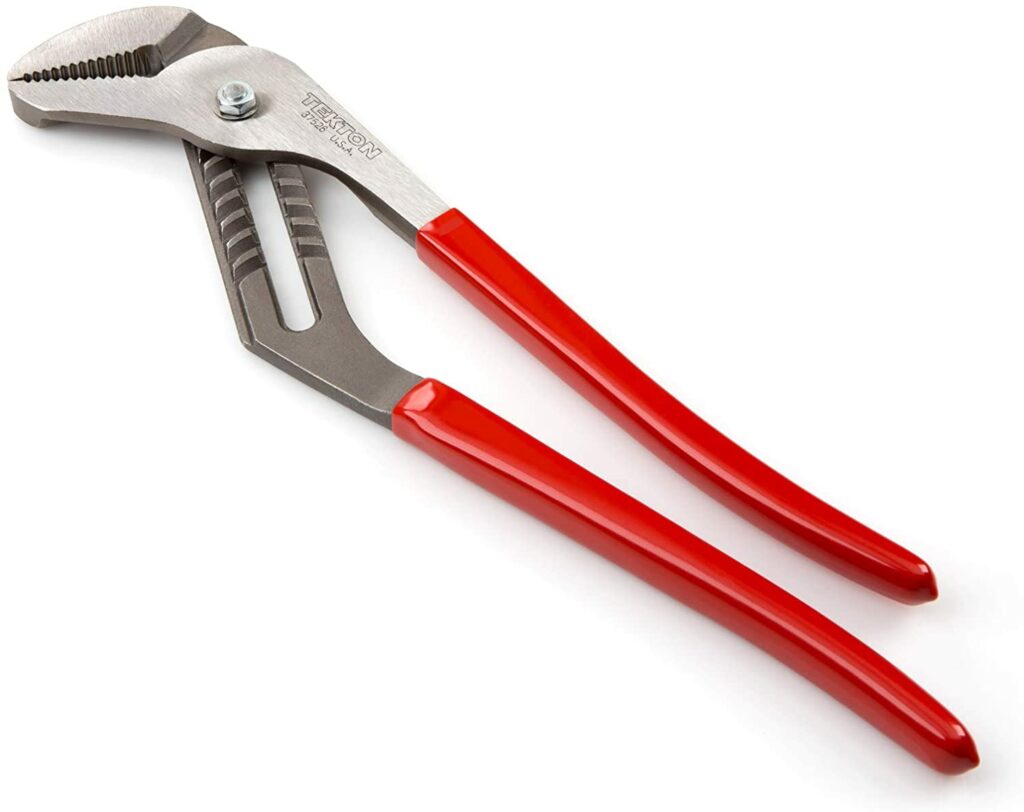 Want to Purchase the Groove Joint Pliers?
If you would like to purchase the TEKTON Groove Joint Pliers, you can do so by clicking the button below.
Product Description:
The extra-large size of the TEKTON 16 in. Groove Joint Pliers is perfect for large plumbing and mechanical jobs. Sharp teeth on each jaw are angled to work with the direction of operation, creating a powerful nonslip bite like a pipe wrench. Fully undercut and interlocking tongue and grooves will not slip or separate under high stress, providing superior joint strength and stability. A nut and bolt fastener allows the operating tension to be adjusted if needed, and unlike permanent rivets it can be used to re-calibrate and maintain performance throughout service life. High-strength 4150 alloy steel construction is organically corrosion resistant and tough enough for anything you throw at it. A broad, rounded handle profile distributes force evenly to reduce stress and pressure on your hand. Slim nonslip grips add extra cushion and comfort without adding bulk.
| | |
| --- | --- |
| Manufacturer: | TEKTON |
| Part Number: | 37526 |
| Item Weight: | 2.65 pounds |
| Product Dimensions: | 16.3 x 4 x 0.8 inches |
| Item model number: | 37526 |
| Size: | 16 Inch |
| Item Package Quantity: | 1 |
| Number Of Pieces: | 1 |
| Number of Handles: | 2 |
| Included Components: | (1) TEKTON 16 Inch Groove Joint Pliers (4-1/4 in. Jaw) | 37526 |
| Batteries Included?: | No |
| Batteries Required?: | No |
| Warranty Description: | Always Guaranteed: support@tekton.com |
Need More Product Information?
For more information about this product, make sure to visit our vendor page. Click below for more.