The DustRam® System Equipment For Certified Dust Free Tile Removal®:  The Best Way To Remove Tile & Other Flooring
Are you searching for a dust free method of how to remove floor tiles and other types of flooring?  The DustRam® System of Tile Removing Equipment consists of multiple components that allow for all types of flooring materials to be removed dust free.
Visit our products page to learn more about the equipment we carry or give us a call at (480) 428-3880
The release of information on our technology and designs has been limited due to a number of components still in the patent approval process.  The key to the amazing results you can achieve in using DustRam® equipment is that all of the tools are designed to capture dust at the source, in every step of the process of removing tile floors, preventing it from becoming airborne and contaminating the home with harmful silica dust.
Contact Us To Find Out More About Our Dust Free Tile Removal Tools® By Calling NOW: (480) 428-3880 Or Click To Complete Our Discovery Form

If you are using traditional tile floor scrapers, floor sanders, power tools, floor strippers, tiling tools, floor removal equipment, floor grinders, ceramic tile saws, other tools for tiling, etc., for tile demolition and thinset removal, you are not delivering a dust free ceramic floor tile removal to your clients.
Not only can you remove ceramic tile and stone with the DustRam® System Equipment, but you can also remove wood flooring, vinyl tile, ceramic wall tile, perform paint removal, glue removal, carpet removal, even profile concrete and plywood in a dustless method that your customers and employees will truly appreciate.
All of this helps to reduce the cost to remove tile, including the reduction in floor prep and floor leveling necessary to bring the subfloor into the correct tolerance for installation.

The DustRam® System Equipment Advantage
For professionals in flooring removal and flooring installation, it is no longer necessary to spend countless man hours and thousands of dollars in material costs to prep before and clean up after your flooring removal projects.  Being able to offer a clean, dustless tile removal has immense benefits for both contractors and homeowners.
Visit our products page to learn more about the equipment we carry or give us a call at (480) 428-3880
Consider how much time and effort is spent prior to the start of a removal project putting up ineffective plastic only to spend more time and effort cleaning up the dust after the removal is completed.
With traditional ceramic tile removal tools and methods, homeowners will have to pay additional costs to hire professional companies to do multiple home and HVAC ductwork cleanings, with the possibility of dust reappearing out of nowhere for months.
Imagine putting those extra dollars in your bank account by offering a clean flooring removal that eliminates dust contamination in closets, cabinets, and drawers, on drapery, furniture, rugs and in home electronics that current industry tools and processes produce.
The DustRam® System Equipment Package Overview
DustRam® System Tile Floor Removal Tool Machine Is the Dust Commander from Jack King.
Most of the DustRam® System Equipment is sold as a package, is not for rental, and includes hands-on training in addition to all the specialized components, accessories and high power vacuums needed to meet the dust collection requirements of the system's overall performance.
Equipment packages are configured for the number of the crewmen using them, the typical square footage removal target, and type of flooring materials to be removed most quickly and efficiently in the Contractor's market area.
Additional components and vacuums can be purchased as the demand for dust free removal grow in your market and your business volume increases.
Visit our products page to learn more about the equipment we carry or give us a call at (480) 428-3880
DustRam® System Equipment Packages include:
* Twice Patented DustRam® Chipping Hammer Attachments – Both Nylon & Metal attachments captures dust from a 360º area around the chisel blade without clogging.
* Patent Pending DustRam® Grinding Shrouds – 3 different grinding shrouds are included for floor grinding of the field areas, edging along baseboards and even under the toe-kicks of cabinetry.
* Patented PulseRam® Vacuum System – Patented vacuums specially designed to optimize airflow needed to capture the debris and dust, with hoses and accessories for longer distances.
* Proprietary Grinding Wheels – an array of custom-designed blades for the removal of all types of thinset mortar, glue adhesives, cutback, paints and epoxy coatings that leave the subfloor practically installation ready.
* Patented & Patent Pending Debris Removal Handling Equipment – No need for brooms, shovels, and wheelbarrows to clean up all the messy debris created.
* Note:  There are over 200+ components in a DustRam® System for 2 operators.  For more information on purchasing this equipment, please call DustRam LLC at (480) 428-3200 .
Contact Us By Calling NOW: (480) 428-3880 Or Click To Complete Our Discovery Form
DustRam® System Equipment Training
Having the right equipment will not benefit your company if your staff does not know how to use it properly.
Also included in the DustRam® System Equipment package is 3 Days of hands-on training for crew members in both the proper tool operation and the refined processes to ensure every job can be completed dust free.  Providing training is our way of ensuring that your staff spends less time on removals and teaching them proper techniques of using the equipment reduces repairs and downtime to increase your profitability.
DustRam®, LLC also provides training in sales techniques and offers internet marketing assistance to new and existing contractors through their flagship web site www.dustram.com and www.dustfreetileremoval.com.
DustRam® System Tile Floor Removal Equipment is available in the United States and Canada.  We will be pleased to discuss Pricing and System Packages with Licensed Contractors, Floor Installation companies, Remodeler's, Commercial Property Renovation companies, Utilities, and other industries provided you complete the NDA Agreement so we can begin answering some of your questions.  To access this document, click on the highlighted link above.
A Contractor's Addendum will need to be completed if you are interested in having a designated territory in your area.
Not Ready Just Yet For A Full DustRam® System?  A Nylon DustRam & Metal DustRam Is Available For Purchase Separate From The Full System!
DustRam LLC understands that contractors, remodeler's, handymen, installers and others are not always set up to "dive right in" and purchase a large dust free tile removal system.  For those of you who want an awesome piece of equipment to help in your everyday tasks of removing tile, we have developed a very robust and lightweight version of the metal DustRam® using a very strong Nylon material.
Visit our products page to learn more about the equipment we carry or give us a call at (480) 428-3880
We originally designed the Nylon DustRam® for use on vertical surfaces and flooring materials that were loosely bonded.  After many hundreds of hours of testing, it was discovered the Nylon DustRam® works very well on well-bonded floors too.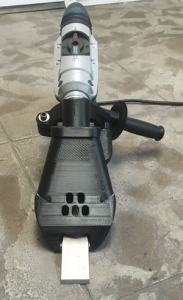 The Nylon DustRam® costs much less to produce than the metal DustRam®, therefore giving you an opportunity to experience for yourselves just how remarkable this single piece of equipment is.  This will whet your appetite to want more DustRam® System equipment.
The Nylon DustRam® is also manufactured much faster than the metal version.  It takes around 4-5 months to manufacture about 15 metal DustRam's®, versus about 55 hours to manufacture and assemble 1 Nylon DustRam®.
So in other words, it takes just a little more than 2 days to manufacture and assemble a Nylon DustRam®.  This reduction in time and materials allows us to provide you with a top-notch piece of equipment for about $5165 less than the metal version of the DustRam®.
Contact Us By Calling NOW: (480) 428-3880 Or Click To Complete Our Discovery Form
This piece of equipment is perfect for contractors who are on a tighter equipment budget, not sure how far they want to explore the aspects of removing tile or whether they want to consider offering dust free flooring removal as a new service to their clients.  Here is your chance to find out!
We also have information on Equipment Purchasing/Leasing Options which qualify for Section 179 of the IRS tax code allowing businesses to deduct the full purchase price of qualifying equipment during the tax year.
This means if you buy (or lease) a piece of qualifying equipment, you can deduct the FULL PURCHASE PRICE from your gross income.
It is an incentive created by the U.S. government to encourage businesses to buy equipment and invest in themselves!
Visit our products page to learn more about the equipment we carry or give us a call at (480) 428-3880