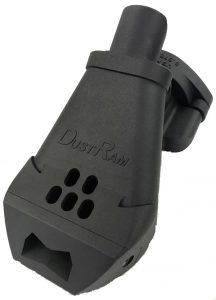 A Nylon DustRam Is Available For Purchase Separate From The Full System!
Contact our office at (480) 428-3880 for more information on this special offer.
Requirements:
DustRam LLC understands that contractors, remodelers, handymen, installers and others are not always set up to "dive right in" and purchase a large dust free tile removal system.
For those of you who want an awesome piece of equipment to help in your everyday tasks of removing tile, we have developed a very robust and lightweight version of the metal DustRam® using a very strong Nylon material on a Bosch 11264 EVS Chipping Hammer.
We originally designed the Nylon DustRam® for use on vertical surfaces and flooring materials that were loosely bonded.  After many hundreds of hours of testing, it was discovered the Nylon DustRam® works very well on well-bonded floors too and is nearly as strong as the metal version.
Here are the written guidelines for using your Nylon DustRam.  For the best experience please follow these instructions:
Be sure to set your Bosch 11264EVS to "Hammer" only.  There is a dial on the front of the hammer to allow you to switch between "Hammer/Drill" and "Hammer."  If you do not set the dial properly the chisel will try to spin inside the DustRam and will definitely break the Nose and possible a portion of the Body.
Before clamping the toggle latch, be sure to align the rear side of the Nylon DustRam collars AGAINST (NOT COVERING!) the small 1/8″ raised metal rib located on the throat of the chipping hammer closest to the rubber nose of the Bosch 11264 Hammer.  Never clamp the latch when the collars are over the rib!  Failure to adhere to this instruction will cause one or both of the collars to break when latching the clamp – not covered by warranty!  See the 2 pictures below for clarification on where to clamp.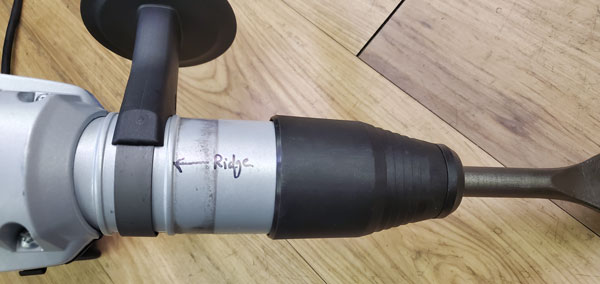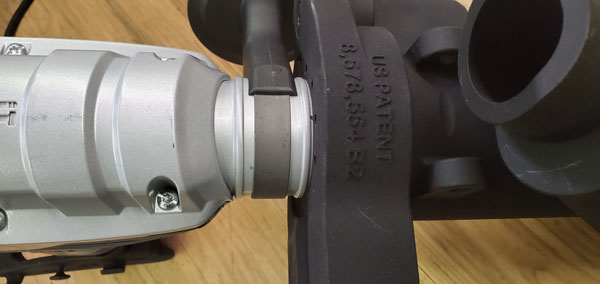 IMPORTANT!  You must let the chipping hammer and chisel do all the work at breaking free tile, stone, porcelain or other flooring materials.  DO NOT use the Nylon DustRam to pry, lift or break flooring free.  To do so will result in the Nose or Body cracking or breaking, both of which are not covered under any warranty.  Used properly the Body and Collars will likely last indefinitely.  The Nose is designed to be replaced once the opening has worn large enough to let in undesirably large pieces of debris.  It is possible that depending on how little you use the Nylon DustRam you could see years of service before the Nose needs replacing.
I have included some video links to show the proper methods for attaching various pieces of the DustRam System to the Chipping Hammer.  Please watch these videos carefully to avoid assembling the equipment improperly or causing damage.
DustRam Attachment/Chipping Hammer/ExoRam/SkiRam
Proper Way To Attach NYLON DustRam
Proper Way To Cover The Tile Chisel With Your Hand To Prevent Chips From Flying
How to attach a DustRam, SkiRam, and ExoRam to a Bosch Chipping Hammer(SkiRam & ExoRam For Sale – Contact Nick if you are interested)
How To Repair A Damaged Electrical Cord On Bosch Chipping Hammer
Here is an instructional video on how to mount an ExoRam®, SkiRam®, DustRam®, and ChipRam® to a Bosch® 11264EVS Chipping Hammer.
The Nylon DustRam® costs much less to produce than the metal DustRam®, therefore giving you an opportunity to experience for yourselves just how remarkable this single piece of equipment is.  This will whet your appetite to want more DustRam® System equipment.
To purchase a Nylon DustRam® will require the purchaser to complete an NDA prior to the sale or shipment of equipment.
Please note, you will need to have a vacuum hose with a 2-inch cuff.
How does a Nylon DustRam work on 24-inch slate tile?  See this video below filmed by Arizona Home Floors of Tempe, Arizona: