The Original Dust Free Tile Removal Tools and System™
DustRam® - The Original Inventor and King of Dust Free Tile Removal®
Dust Free Tile Removal Services, Tools & Equipment For Removing Tile, Stone, Wood and Other Flooring.
DustRam®

VS The Competitors
Become A Certified DustRam® Contractor
Are you interested in becoming a Certified DustRam® Contractor in your city? Find out what you need to do to become a part of the family!
The
DustRam® System

Saves

Time

,

Increases Tile Removal
Speed

and Produces More

Profit
1. Faster Service
Are you searching for "tile removal near me?" DustRam® is the only dust free provider in the world with patented technology and over 23 certified contractors in the US. The DustRam® Equipment System of technically advanced tile removal tools is so efficient, it can easily double or triple the amount of ceramic tile removed in a house or business each day, week, or month. Imagine being able to remove the flooring and reduce your project time in half while maintaining your current income.
2. Dust Free Solution
The revolutionary DustRam® System Floor Removal Equipment is now available for sale to Licensed Contractors in Floor Removal & Flooring Installation, Remodelers, Commercial Property Renovation Companies, Utilities, and other industries.
DustRam® provides a dust elimination solution to remove tile, tile cement board, underlayment, and all types of tile flooring materials.
3. More Profit
Our specially developed system of dust free not dustless floor removal equipment and refined processes removes the tile in an exceptionally fast, efficient method to increase profitability and save valuable time.
In terms of ruggedness and dependability, every component of the DustRam® System Floor Removal Equipment has been field-tested to outperform and outlast other products currently marketed to remove ceramic tile concrete.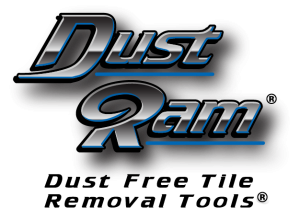 How Can The
DustRam® System

Equipment And
Becoming A Certified DustRam® Contractor
Benefit Your Business?
DustRam® Captures 99.9995% of Dust Particles
DustRam® is the inventor and the original dust-free tile removal company that started it all. We are the only certifying entity in the nation with over 23 contractors and +26 patents on tools and equipment. Our ability to remove dust particles down to 0.3 microns sets us apart from the other contractors in the US. We are a truly dust-free service. Purchasing the DustRam® System Floor Removal Equipment provides your company with a unique opportunity to serve discriminating homeowners, perform commercial projects with sensitive environments, improve productivity, increase profitability, and alleviate health concerns of a growing population.
Property Owners Want Their Flooring Removed, Dust-Free!
More knowledgeable customers are demanding dust-free flooring removal services. It also provides for substantial market advantages over the competition that include:
Elimination of time spent and materials consumed in attempting to construct ineffective barriers to mitigate the invasive dust created with traditional floor tile removal tools and methods used.
A 3 to 5 times reduction in the man hours spent removing tile and various other materials.
Significantly increases the time available for the installation of new flooring and the ability to generate profit from removal of the old flooring.
Achieves measurably flatter, cleaner surfaces that reduce the time required for floor preparation and the number of adhesives needed for installation.
Creates new market opportunities to perform services in hospitals, medical facilities, restaurants, schools, corporate offices, libraries, high tech manufacturing environments, etc.
Eliminates health concerns of your potential clients and employees who may suffer from respiratory conditions like Asthma, Allergies, Emphysema, or COPD, pet owners, parents of babies or young children or those caring for elder generations.
Satisfied clients who will increase your referral rate through word of mouth and generate more qualified leads for new business.
The DustRam® System Floor Removal Equipment is 100% Built in the USA
Does The
DustRam® System

Fit

Your Company's

Needs?
Advantages of a Dust Free Tile Removal Business
Determining whether the DustRam® System would be a benefit to your company's operations starts with assessing your current clientele and local market. If you are currently competing with other contractors to perform dusty, messy flooring removal projects, there is a significant competitive advantage to offering a dust-free removal service using the DustRam® System Floor Removal Tools.
Who do the Benefits of Dust Free Tile Flooring Removal Appeal to the Most?
The benefits of a dust-free removal appeal to more middle to high-end clientele. Consider how many of your current residential or commercial clients are included in the following categories:
Homeowners with health conditions such as allergies, asthma, or other respiratory conditions, small children, elderly parents or pets
Individuals and families with beautiful homes and belongings of great value or other specific reasons for wanting the interior air quality to be free of dust.
Business owners or retailers who are particular about their store or restaurant décor
Property owners of Retirement Communities, Assisted Living Centers, Nursing Homes, Medical Facilities and Hospitals
Facility managers of Universities, Schools, Daycare Centers or Churches
Commercial property managers of Resorts, Casinos or Convention Centers
Partners in Construction, Remodeling, Interior Design, and Flooring Sales and/or Installation
With a diverse and expanding client base, the DustRam® System Floor Removal Equipment is a competitive advantage worth the investment. Disposable rubber, plastic, poorly engineered or manufactured tools that do not perform to the level the DustRam® System achieves will not produce the results you or your clients expect.
Other Contractors Use a Floor Scraper Which is Not Dust Free
If you wish to reach a wider market and a higher level of professionalism, the DustRam® System Floor Removal Equipment will benefit your business.
The competition uses a ride-on-floor scraper, not us.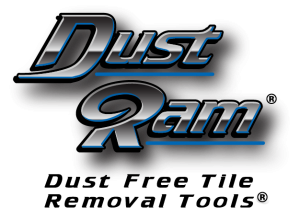 The
DustRam® System

Floor Demolition Tools
Set The Standard in Dust Free Tile Removal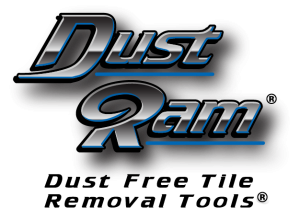 DustRam® Facilitates Solutions for Commercial and Residential Projects
The patented DustRam® System components are of military-grade design and built to be as rugged as they are effective. With proper use for its intended purpose, the DustRam® Chipping Hammer attachment can last for decades.
Made from billeted aluminum and hardened steel, the DustRam® system of equipment has been tested for years at actual project sites, both Residential and Commercial flooring removal, and proven to deliver more value than any other product on the market. Higher quality and volume of removal possible with this equipment not only makes good business sense.
The price clients are willing to pay for dust free removal realizes your return on investment quickly. Contractors who use the equipment, and customers who are serviced by them, describe the performance of the DustRam® System as "Amazing," "Incredible," and "Fantastic." Does your current method consistently receive positive comments? If not, you should contact us.
The
DustRam® System of

Flooring Removal Tools & Equipment Deliver

Value
Remove Tile From Concrete Efficiently and Effectively
Used regularly, the DustRam® System is capable of generating more profits for years to come after your initial purchase cost is recovered. If you are not seeing these same results with your current traditional equipment and methods for flooring or tile removal, contact us today! There are unlimited applications for use of the DustRam® System Equipment in both Residential and Commercial applications including some we may have not even thought of yet. You will be able to perform numerous services quickly, cleanly, and efficiently for a profit!
A Machine System of Floor Removal Equipment That Performs Exceptionally Well
We share project videos, usually the most difficult types of removals, so you can see actual jobs being performed without the need for ineffective plastic barriers. See true removals inside closets with the clothes still in them, in pantries with food on the shelves, and with actual clients in the room during the process. Compare our videos to other videos claiming "virtually dust free" or "clean tile removal" and see that none of those videos show anything as technically difficult.
Upgrade & Improve Your Business with the DustRam® Removal Tools & Equipment
The newest improvements in technology give companies an edge in their respective markets. Truth is, no one has presented anything like the DustRam® System Equipment to the Floor Covering Industry until now. Cheap plastic and rubber boots, knock-off flimsy metal hammer attachments, and plastic grinding shrouds currently offered on the market ALL fail to adequately capture dust like the DustRam® System Equipment.
These poorly designed and cheaply fabricated components do not maximize the vacuum suction power without clogging, bending, hitting cabinets/baseboards/walls, spitting dust, and wearing out quickly. DustRam® System components concentrate the vacuum's suction power to the source of the dust as it is created.  
DustRam® Prevents Tile Dust From Getting Everywhere
This prevents debris and dust from becoming airborne and contaminating the living environment while providing both employees and clients protection from airborne Crystalline Silica dust generated during the removal. We recognize this is a significant health hazard, as does OSHA and many other Health Organizations.  As awareness of the availability of dust-free tile floor removal grows, so will the demand for it.
Contact DustRam® For More Information!
Do you need more information about the DustRam® dust free tile removal process? Or do you simply want a quote? Contact us right now!