The ONLY Tile Removal Tools that TRULY Capture the Dust
Our flooring removal tools capture 99.9995% of silica dust at production
These are the best tile removal tools out on the market that provide a truly dust-free result. Dust-free prevents exposure to the dangerous tile dust known for causing different types of respiratory diseases. Whether you are looking for a service or you are a contractor interested in buying dust-free equipment, DustRam® is here to help.
Are you looking for tile removal tools for your home renovation or remodeling project? Introducing you to DustRam® – known worldwide for designing the best quality tile removal tools that capture 99.9995% of the dust created during the flooring removal process. DustRam® invented the method of dust free tile removal and the +26 times patented system that gets the job done better, faster, and cleaner.  
We prevent commercial and residential property owners from enduring the dusty mess from a traditional or virtually dustless tile removal. With the DustRam® System, dust is no longer an issue. Our advanced technology removes tile better than any other system out on the market. Follow along with DustRam® to learn more about our tools and how they work to remove tile flooring without the mess.
Related Post: DustRam®, Ahead of the Competition
Interested in Dust Free Services? Find a Contractor Near You!
The revolutionary and robust flooring removal system by DustRam®, was designed to alleviate the dusty mess and prevent workers and families from becoming exposed to silica dust. We invented and patented the revolutionary system that was designed specifically to capture the dangerous carcinogenic dust that is naturally produced during tile removal services. There is no other system in existence that can capture 99.9995% of the dust and can prove it. We have OSHA air quality field tests to prove we are DUST FREE. No other company or contractor in the world has the technology required to capture dust at these levels.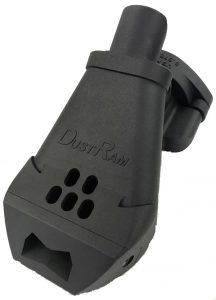 The Nylon DustRam® removes vertical surfaces & loose or well-bonded floor 3X faster than other tools. The Nylon will easily chip through thick tile flooring. This is the lighter and Nylon version of the MetalRam®.
The DustRam® vacuum captures the carcinogenic dust known for causing respiratory illnesses. This patented vacuum is one of its kind and is known for capturing and containing 99.9995% of silica dust at the source.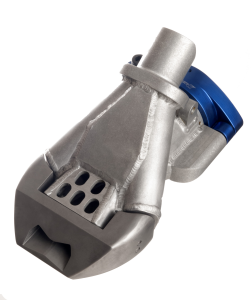 Get a faster & more solid impact from the chipping hammer with the MetalRam®. This results in increased production & efficiency. Well suited for prying heavy pieces of material once the material has been broke free. 
Check Out the Full DustRam® Dust Free Tile Removal System
We Remove Tile Floor While Capturing the Dust
Comparing DustRam® to the Competitors
PulseRam® VS
CDCLarue®/Pulse-Bac®
DustRam® VS
Dust Commander®
ExoRam® VS
HHDA™ DemoSled™
DustCuff & HHDA By Bosco VS. DustRam® & ExoRam®
DustCuff VS. DustRam® Tile Removal Attachment

Top-Rated Floor Tile Removal Tools & First-Class Results
The

DustRam® System

Captures 99.9995% of the Dust
Not many people are aware that dust-free tile removal is an option and that it is the ideal method for removing tile in your home. DustRam® has created a system that focuses on capturing the dust instantly upon creation. Don't settle for traditional or virtually dust-free tile removal because they still expose you to the cancer-causing tile dust. Let your contractor know you want the DustRam® dust-free tile removal. Don't settle for a cheaper service in an effort to save a little extra money up front. The truth is, it will end up costing you significantly more in the long run. Make your health a priority and choose DustRam®.
50X below

OSHA's Exposure Limit of Silica Dust!

The most valuable question you can ask the contractor that is doing your flooring removal is… "How dust-free are you?" Unfortunately, not many contractors will know the answer because they don't have air quality tests to prove how much dust is left in the home after the tile removal is done. DustRam® on the other hand, has run several air quality tests, and our system captures and contains 99.9995% of the silica dust the instant it is produced. Other contractors are only able to filter out 99.97% of the dust using HEPA filters, but filtering and capturing are not the same! You want to know how much dust is being captured. Most contractors either offer traditional or virtually dustless tile removal services, and those methods are dust free.
With DustRam® You Save on Your Overall Costs of a Tile Removal
Not only does the DustRam® System of tools and equipment offer superior quality over all other systems but you will also save a significant amount of money in the long run. While traditional and virtually dust-free methods are certainly cheaper in price, they end up putting a deeper hole in your wallet. 
Traditional and virtually dust-free methods are not dust-free. Do not fall for this. These methods are outdated and are not ideal for any home renovation. With virtually dust free and traditional tile removal, the dust is released back into your home and will end up in your pantry, cabinets, clothes, ceilings, and so much more. You will then need to hire a professional company to come and clean up the dusty mess. On average, cleaning up the dust takes months and in some cases, years. Even then, the dust will not be completely removed. 
The solution to this problem is choosing dustless tile flooring removal services. Traditional and virtually dust-free methods will end up costing you more. DustRam® has tools that were specially designed to capture tile dust the instant it is created which means it never gets expelled into the air and you will not have to worry about the clean-up process. 
Related Content: How much does tile removal cost?
Watch Our Dust Free Tile Removal System In Action
DustRam® Tile Removal Tools Leave Your Subfloor Better Prepared
If you are familiar with traditional or virtually dust-free tile removal methods, you will know that the concrete is not left in ideal condition for the flooring installation process. This was a major concern for DustRam® because we pride ourselves on providing only the best quality tools and services in the game. With the DustRam® System, the tile is removed and thin-set is grinded down and scarified to give your new floor better adhesion. 
Not only do we remove the tile and capture the dust using our PulseRam® Auto-Self Cleaning Vaccum, but we also leave your subfloor prepared well for an easier and more efficient floor installation. The key to having a professional-looking project is having appropriate tools for the job. In tile removal, the first phase requires removing the existing tile which includes sanded grout, unsanded grout, and non-sanded grout however, this is much easier said than done. These 'smart tiles' typically bond to the underlying concrete flooring with a mortar-based adhesive known as thinset. The Solution:

DIY Tile Removal is a Long and Arduous Process
Is more beneficial to hire a professional dustless tile removal contractor in your city to tackle the job the first time!
Thinset mortar is not a simple glue that keeps the tile in place. Thinset is practically as hard as stone once it dries and is, therefore, much more difficult to break through and remove than the epoxy-based adhesives frequently used to secure the tile to drywall for a backsplash or shower enclosure. Consequently, it is not usually possible to pop tile off and remove grout lines with a hammer and chisel or floor scraper. A tile floor tends to cover a significant amount of space as well so trying to remove it with simple hand tools would make for a long and arduous process. Just be sure you are not removing any asbestos-containing materials sometimes found in vinyl flooring.
Ceramic tile for floors gets a massive amount of use and can be damaged or worn out much sooner than other features of a room, such as a washing machine or other appliances, backsplashes or fixtures.
Merely replacing the tile flooring and perhaps doing a bit of paint can dramatically change the look of a room without having to invest in anything new other than the flooring.
The process is relatively simple to understand and execute without any prior experience, though it may be time-consuming for beginners.
Redoing the floor tile does not take a room out of commission for long. You can still have full use of your house during this process if you do not mind a bit of construction material lying around.
If you are looking for a tile removal tool to get the job done quickly and with less physical exertion than the methods already described, consider using an electric chipping hammer. This power tool is lighter than a sledgehammer and much easier to maneuver than a straight hoe. This device uses a chisel bit that pistons back and forth rapidly, and with a good deal of force to break through the tile and thinset faster than any other method you might try. Anyone can use an electric chipping hammer to do quick work for the removal of any tile installation.
The high-powered chisel busts through the thinset layer and breaks tile away; it also works well for tile grout removal tools. Note, this is not a tile removal method viable for those who want to save any of the tiles removed. However, this is a must-have tool for home improvement contractors who must frequently remove old tile and make it as dust-free as possible.
Ruling Out Basic Flooring Removal Tools 
Basic tools will not get the job done efficiently. It's important to invest in the proper tools that will get the job done right the first time.
Since basic hand tools have been ruled out, what options are there for removing tile and grout or a tile backsplash? If you are into hard manual labor, then you can attempt to pry up the floor tile with a straight hoe or putty knife. This method is the same basic concept as prying with a chisel and hammer but gives the user more leverage to break through the thinset bond. Depending on the installation of the tile flooring and what type of thinset used, this may or may not work.
How to Use an Electric Chipping Hammer Step-By-Step Instructions
1. Be Safe
Powerful tile removal tools and can easily cause injury if used improperly. Do not use it close to anyone else and be sure to wear heavy gloves and boots to protect your feet.
2. Place the Tip Against the Floor Tiles
With the hammer off, place the tip against the floor tiles, wall tile or other material you need to demolish. Do this at an angle and not straight on and allow the chisel to chip away the material instead of trying to go straight through.
If you try to work parallel to the surface you are clearing, then you will only succeed in making the chisel skip over the surface. Luckily, it is more natural to keep the tip at an angle instead of parallel, so this should not be too difficult.
3. Apply Firm Pressure
With a tight grip on the tool and while applying firm pressure to the area where the tip is contacting the adhesive material, pull the trigger and allow the tool to do the work.
Related Post: The Evolution of DustRam®
4. Short Bursts
Work in short bursts. When done correctly, the tile will remove quickly, and you will frequently have to adjust your position to keep up and maintain the right amount of pressure on the tooling spot.
5. Begin at the Edge of a Room
Start at the edge of the room and try to work toward where the cleanup will happen, so you do not need to move more debris than necessary. A seemingly unavoidable aspect of tile removal and removing grout is that a lot of dust can be created as the adhesive layer (such as thin-set) is broken through when prying the tiles up as well as tile grout removal or when using a regrout tool to remove grout haze or regrout tile.
Manual methods such as this are even more impactful when using a power tool. Silica dust from thin-set can get distributed in the air quickly and find its way into all sorts of areas you might not think of, like drawers and vents. It is common practice to lay down plastic sheeting and tape up anything to protect from this kind of work. Unfortunately, even doing this does not guarantee the dust will not find its way where you would rather not have it go. Dust can hang in the air for quite a while and even get circulated into other rooms if there is inadequate ventilation.
You may have noticed nowhere in the instructions above was there any mention of preparing the workspace or cleaning up afterward. The reason for this is because in addition to your electric chipping hammer you should also use a tile remover tool called the DustRam®. 
*****The DustRam® is an attachment that goes on the hammer and surrounds the chisel. When attached to a high-quality vacuum, it sucks up any dust before it becomes airborne while chipping through the tile. Reach out to our team if you would like to learn more about the required tools to remove tile floor effectively and efficiently.
Learn More About Our Dust Free System

DustRam®'s Intricate Design, Detail, and Efficiency Make Us Second to None!
When you are removing tile in your home, you should use the electric chipping hammer to plow through the floor tile while using the DustRam® There is no need to have any protective sheeting anywhere because a visor will come in handy. The visor will protect the face from the debris created during the chipping process. A dust mask is also not necessary because the DustRam® vacuum quickly sucks in all the tile dust – even from a foot away.
The DustRam® System of tools and equipment is ideal because of its intricate design, detail, and efficiency compared to other tools. The DustRam® System immediately captures the crystalline silica dust upon creation. Since the intake opening surrounds the chisel, dust can be sucked in from all directions. When using the hammer in tight spaces, or walls, this comes in handy where gravity might otherwise encourage the dust to fall. 
There are additional intake holes around the DustRam® that capture ambient dust not created at the site of the chiseling action. These additional holes keep all generated dust completely under control to the point where the only cleanup necessary is removing the chunks of tile. Oscillating multi-tool devices, no matter how expensive cannot make this claim.
DustRam® with the Chipping Hammer Will Severely Reduce Time Spent on Removal
Using the DustRam® in conjunction with an electric chipping hammer severely cuts down on the amount of time it takes to remove the tile, due to both the quick action of the hammer and the simultaneous cleanup of the DustRam®. Many home improvement contractors already use electric chipping hammers to remove tile, but most do not know about the DustRam® or end up using cheaper alternatives that are only virtually dust-free.
The "virtually" qualifier, in this case, means that a large amount of dust collected during tile removal will escape into the air. If you are using a virtually dust-free attachment you would still need to wear a dust mask to protect your airway and will still be finding dust on your surfaces hours after what escaped has a chance to settle. There is no comparison between the competition and the DustRam® if you want an easy-to-use tool that eliminates the dusty mess.
After removing floor tile there is still the matter of removing the thinset used to adhere it to the concrete underneath. Sometimes, the electric chipping hammer can be used to chisel away at this thinset. In many cases, however, this is not the most effective or fastest way to accomplish this task.
It is much quicker to use a grinder with a diamond-type grinding surface to break down the relatively soft stone. The size of the grinder does not particularly matter, but larger grinders will obviously get the job done more quickly. The DustRam® is the only tile removal tool and system of equipment that captures crystalline silica dust without releasing it back into the air your breathe.

Dust Free Tile Removal Tools and Equipment
It should come as no surprise when grinding thin-set down – even more dust is created than when one is removing floor tile. In fact, the sole byproduct of this process is dust. It can be tricky to handle this properly, but that is where the DustRam® System comes back into play. Not only is there the DustRam® attachment for your electric chipping hammer, but the DustRam® System for contractors also includes attachments for grinders to create a dust-free grinding experience.
The PulseRam® Patented Vacuum – Maximum Suction Power
The PulseRam® patented vacuum with the other tools concentrates its suction power right at the source of the dust, where the grinding face meets the thinset. The system also includes several shapes of skirts that envelop the grinder and contains the dust from escaping before it gets away. Using this system again means no prep work must be done to prevent unwanted dust from entering areas that should be kept clean.
Subfloor Is Ready After Thinset Has Been Removed and Grinded Down
Once you are done grinding down and removing the thinset, the surface is usually ready for applying new tile or another flooring. The same claim cannot be said for any other method of thinset removal. Though there are also grinders with vacuums that claim to be virtually dust-free, none of them capture the dust in the way that the DustRam® System does.
DustRam® System Combined With Power Tools 
With so many tools that can be used to remove tile and thinset; they all have their pros and cons. What they have in common is every single traditional option will leave you with a massive mess to clean up. The only way to remove tile quickly and have a little mess to deal with as possible is to combine the right power tools with the DustRam® System. Being able to clean up all the dust as you go is an incredible benefit that pays for itself in no time.