Electric Chipping Hammer Attachment For Dust Free Tile Removal
After over 10 years of development with several patents issued, Arizona Home Floors and Jack King have discovered that by combining our Nylon DustRam® Tile Removal Tool, coupled with the Bosch 11264 EVS electric chipping hammer, we can achieve a dust-free tile and flooring removal process. Thousands of builders and contractors use tools such as the chipper shredder, welding tools, die grinders, demolition hammer, rotary hammer, wood chipper, drills, impact wrenches, angle grinder, air compressor, rivet buster, and cut-off saws every day.
Each has positives and negatives that must be weighed to make the best choice. For example, a manual tool might be cheaper and easier to control, but power tools can greatly speed up the process. With our tools, you can provide dust-free tile removal in your city. If you would like more information about joining our team and becoming a dust free tile removal contractor, contact us today.
Check Out Our Tile Removal Equipment

DustRam® - Electric Chipping Hammer Attachment
The DustRam® is the only attachment for electric chipping hammers that can result in a dust free working environment. It fits over the hammer and chisel bit with a 360-degree opening around the chisel that immediately captures all dust occurring at the site of impact. Larger intake holes further up the attachment capture ambient dust that may occur further away. Take a look at our project videos to see our contractors and system at work.
Aside from being a health hazard, the dust created when using any type of chipping hammer is the hardest part of a job to clean up.  Even if you lay down protective plastic and tape up the areas you do not want dust to get into; it will linger in the air for days and eventually settle on every exposed surface. If you remove the protective layers before all of the dust can settle from the air, then it can end up all over the home.
Unless you are willing to leave a site for as long as it takes for the dust to settle completely, there will always be some amount of mess to clean up unless you use the dust free DustRam® attachment with your chipping hammer.  With the DustRam®, there is no need for extensive clean-up after completing the work, which means an overall faster job. Shop the DustRam® System of Tools and Equipment for a top-quality job! Learn about the dangers of exposure to crystalline silica dust and why dustless tile removal is important for your health.
OSHA Silica Dust Exposure Rules - Dangerous Dust!
Choose the Right Tools - Protect Your Workers and Customers
With the new OSHA silica dust exposure rules in place, tile removal contractors need to think about not only protecting their workers but the homeowner as well. Contractors can do the best job possible, meaning show up early for a job, having an experienced and trained crew, and even being licensed, bonded, and insured, but when dust goes airborne, the homeowner or business owner is not going to be happy, we have developed a solution. The above video filmed by Arizona Home Floors shows a 24-inch slate tile being removed dust-free with our new nylon DustRam® attachment system.
Learn about the dangers of becoming exposed to silica dust from tile removal.
Outdated Methods Expose You to the Carcinogenic Dust
All home improvement contractors know choosing the right tools for a job and managing your time are two of the most important actions to take to have a successful business. Often these two factors go hand in hand. There are many ways to get a project done and many tools that can accomplish similar goals. Having a patented tool to remove tile dust-free should be the goal of all contractors in the tile and flooring removal industry. Visit our products page to learn more about the equipment.

Comparing Other Tile Removal Tools to the DustRam® Equipment
There are hidden costs for each choice as well. We have purchased some of the various tools that companies are using to attempt to duplicate our process, here is the page which goes into detail comparing our DustRam tool to another tool: The extra time needed when using a cheaper method equates to lost profit as you are unable to complete fewer jobs in a set amount of time. Learn more about DustRam® vs DustCuff™
Adding Power Tools to Your Arsenals Makes All the Difference
Smart contractors know they need to invest in their business to be profitable. Contractors should leave the manual and time-consuming processes to the weekend DIY homeowners and add some power tools to their arsenal.  Ideally, a tool to use for multiple purposes and most average jobs. One such tool to get frequent use is the Bosch 11264 EVS electric chipping hammer.
Unless a job is starting completely from scratch, there will be some amount of demolition needed. Demolition work can range from easy and therapeutic to a complete pain in the neck. Often, the main factor determining how this experience will go is how well the previous contractor prepped the existing subfloor and how well bonded is the flooring. A contractor obviously has no control over and cannot plan for this situation, other than having the best tools on hand.
Tile Replacement and Flooring Removal Without the Mess
DustRam® System of Tools and Equipment were designed specifically to capture and contain 99.9995% of the dust created in a tile removal job. Our equipment keeps the dust from ever touching the air in your home.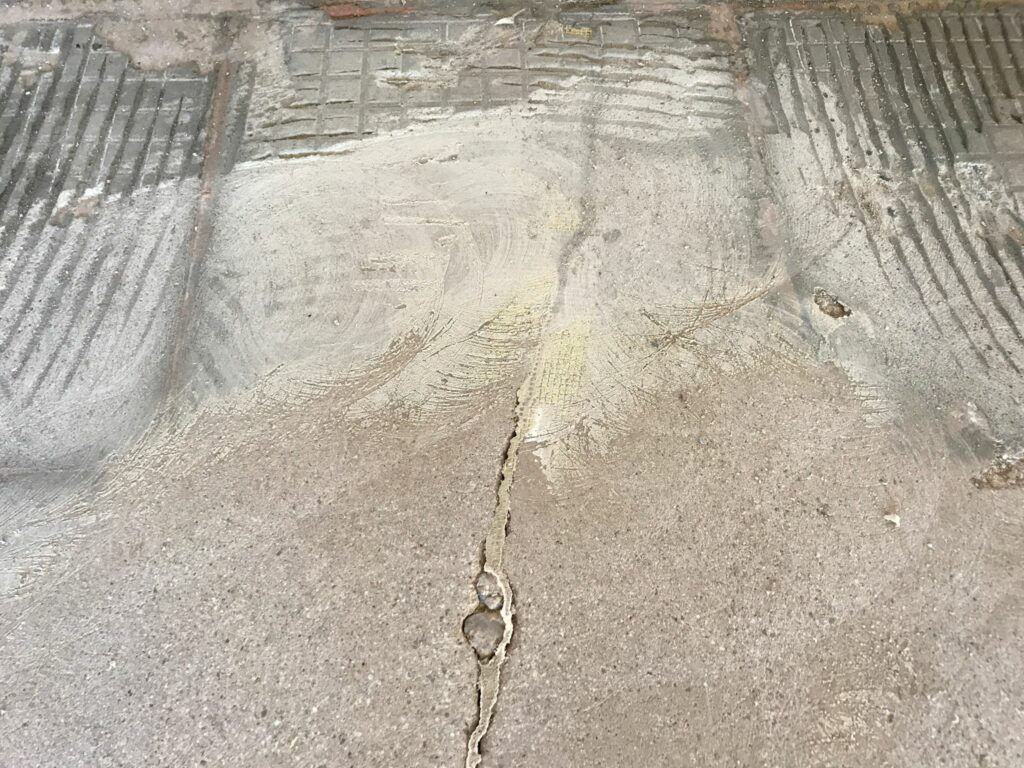 Take a look at the difference in the floor before and after grinding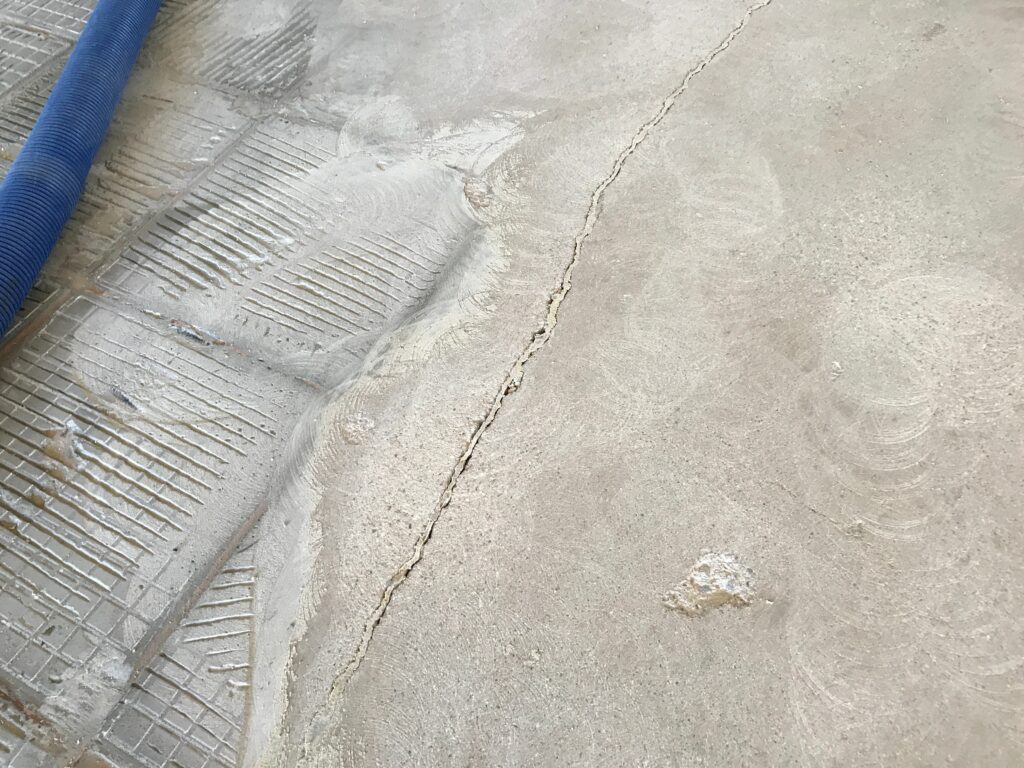 Our grinding process smoothes out the subfloor concrete and gives scarification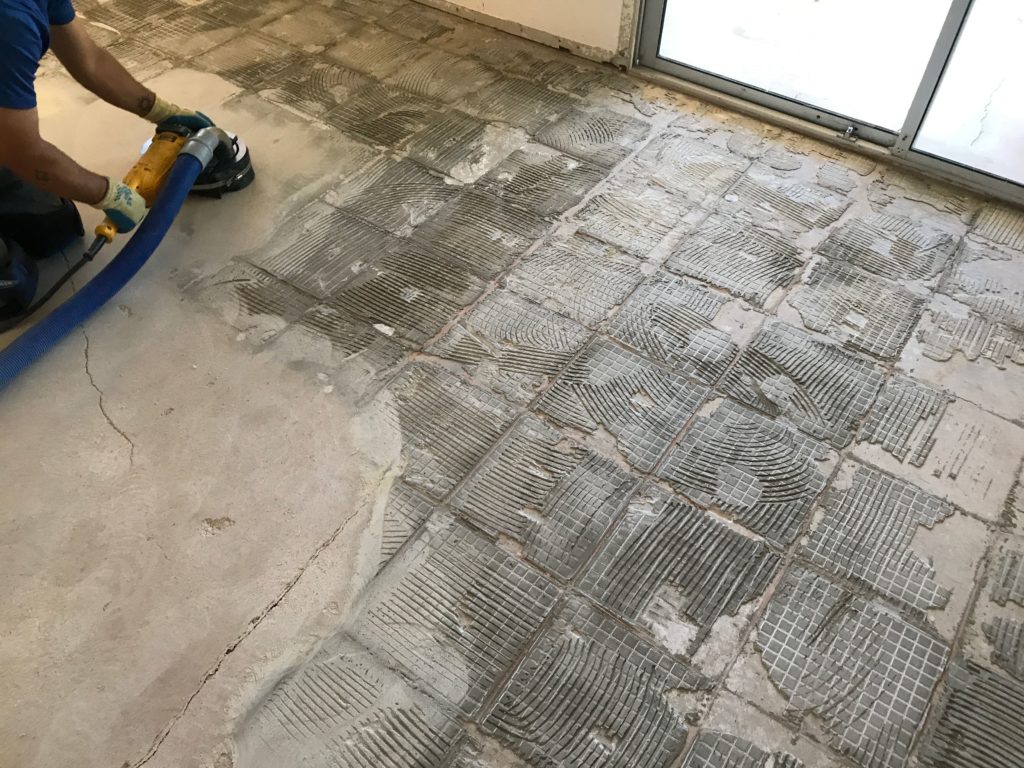 The concrete is flatter after we are finished with it. It's also better prepared for install.
Eliminate having to deal with the dusty mess from a traditional or virtually dustless tile removal. Multiple cleaning sessions for months or even years are unnecessary as long as you use the right equipment to remove the tile and capture the dust. Consider a tile replacement project or any floor removal project with DustRam®. Depending on the bond of the original tile installation, demolition can be as easy as popping the old tile off or as difficult as breaking and chiseling everything away. If a contractor has an electric hammer for chipping ready to go, then they will be able to handle anything regardless of how it was initially laid down.
While the pros of using an electric tile chipping hammer include increased power and speed, a major downside is a giant mess it creates. Not only will there be large amounts of broken tile to dispose of, but the power tool operation creates a great deal of dust, which can launch itself into the air at the site of the tooling. Airborne dust is one of the more insidious and harder to deal with effects of home improvement. Many common construction materials contain an element called silica. Silica is found in many construction materials and is also one of the most common naturally occurring elements on earth. Though a naturally occurring element, it does not mean it is good for humans to inhale.
Visit our FAQs page to view some of the most frequently asked questions about dust free tile removal and DustRam®

Our Tools and Equipment Capture Crystalline Silica Dust
Use our tools to capture the dust the moment it is created during the chipping process. Prevent your exposure to the dangerous silica dust by using dust free tile removal tools. 
When removing the tile and other construction materials, the dust that results is full of silica. Inhalation of silica dust can be a health hazard and only takes a small amount to begin to cause damage. Silica dust exposure can result in a range of serious illnesses, including several fatal ones such as various forms of cancer. For a homeowner who is doing their repairs, this is not much of a concern. However, for home improvement contractors who are around this type of material on a regular basis, it is vital they take proper precautions.
To protect workers from silica dust they should use masks with filters rated for this exposure. There are also tool attachments that can be used in conjunction with power tools like electric hammers for tile used to reduce the amount of dust kicked up into the air. The most powerful option out of all of these attachments is the DustRam®
Watch our team remove thin-set tile, grind the concrete, and give scarification for a proper floor bond. 
DustRam® is the most efficient, rugged, and well-designed floor removal equipment and tools currently out on the market. 

Do Not Compromise. Get Your Dust Free Tile Removal Tools Today
No need to settle for a tile removal that exposes you and your loved ones to the dangers of crystalline silica dust. Purchase our tools for a truly dust free solution.
The DustRam® is only designed to work with the Bosch 11264EVS chipping hammer.  Even if you already have a chipping hammer of a different model, it is well worth purchasing this compatible tool to take advantage of the dust free capabilities of the DustRam®. DustRam LLC sells a full dust free system for home improvement contractors. There is also a high demand to purchase the DustRam® attachment for electrical chipping hammers by itself. For the budget-conscious, DustRam® sells a nylon attachment for under $1,500. The DustRam® is extremely durable and is compatible with any shop vacuum that uses a 2" hose. We recommend also purchasing the PulseRam® vacuum to get the best experience.
Contractors who make frequent use of the electric chipping hammer should seriously consider purchasing a DustRam® since this is the only attachment on the market that can deliver on the no-mess promise. Competitors that are "virtually" dustless still allow a percentage of dust into the environment and can put workers at risk if they do not take proper equipment precautions. See the comparison video on this page of the DustRam® vs the Dust Commander® Do not compromise quality by choosing a contractor that is not up to date on the latest technology or is OSHA compliant. Give the DustRam® a try, and you will likely want to purchase the entire DustRam® System to handle the rest of your demolition needs.