DustRam, LLC is currently searching for a tile removal company in Pensacola and other areas nearby, including Escambia County to offer dust free flooring removal using the DustRam® System equipment.
At this time, there is no contractor who is trained and certified by DustRam, LLC but homeowners who are looking for completely dust free removal of their existing floors should reach out to their contractor, installer or flooring store and have them contact us here at DustRam.  We also have other contractors throughout Florida that you may reach out to.
Any contractors that are interested in purchasing a DustRam® System and being assigned a territory should complete the form below or give us a call at (480) 428-3880
Alternatively, contractors or those interested in purchasing equipment may click HERE To complete our discovery form
The population of Pensacola was roughly 52,590 in 2017 when the population was last checked, but when the areas include Escambia County that number goes up to over 315,534 people.
The Pensacola metropolitan area has a population estimated at 494,883 in 2018.  Being that Pensacola is about 13 miles from Alabama is great because most contractors should be able to travel to, and work in Alabama.
You might be on this page wondering why there needs to be a completely dust free flooring removal contractor in Pensacola that removes the tile and other types of flooring, including hardwood?
The newest OSHA silica dust rules stress how important it really is for business owners to protect their workers from the dangerous exposure to crystalline silica, which is known to be harmful to humans.
In protecting their workers, they are also protecting the homeowners and building their reputation as a green company.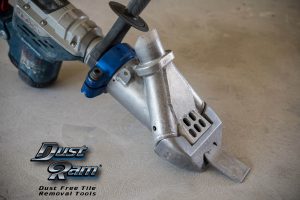 Certified DustRam® Contractors are professionally trained and certified at the headquarters in Arizona for three days on all aspects of flooring removal including the process to get the floors up without having to use any plastic or water.
Most of the companies you call in Florida use the traditional method of removing tile, where plastic held with tape is put up around cabinets, vents and in doorways.
Not only does using plastic waste a significant amount of time, it really does not help very much, especially when you see the video page below showing traditional tile removal:
https://tileremoval.net/benefits-of-dust-free-vs-traditional/
Here is a video showing what some tile removal companies are using, see how it compares to the DustRam:
DustRam owns and operates an HP 3-D printer, it costs roughly $400,000 and is used to create some of the tools used by certified contractors, see the video below to learn more:
As you can see, HP's 3-D printer helped to create some amazing tools to remove tile dust free.
Below is another video showing what happens when a vacuum is used removing stone tile versus no vacuum:
Below is a contact form, if you are interested in learning more about the DustRam® System equipment, please complete the form and the NDA.
Thanks for taking the time to complete this Discovery Form.  By completing this form, you will give us an opportunity to learn more about you, your business, your experience in this industry and some of the services you offer customers.
Again, homeowners should have their Pensacola flooring removal contractors reach out to DustRam by calling (480) 428-3880 and contractors, you may also call that number or complete the form below, thank you for your interest!