Choose the Right Floor for Your Dogs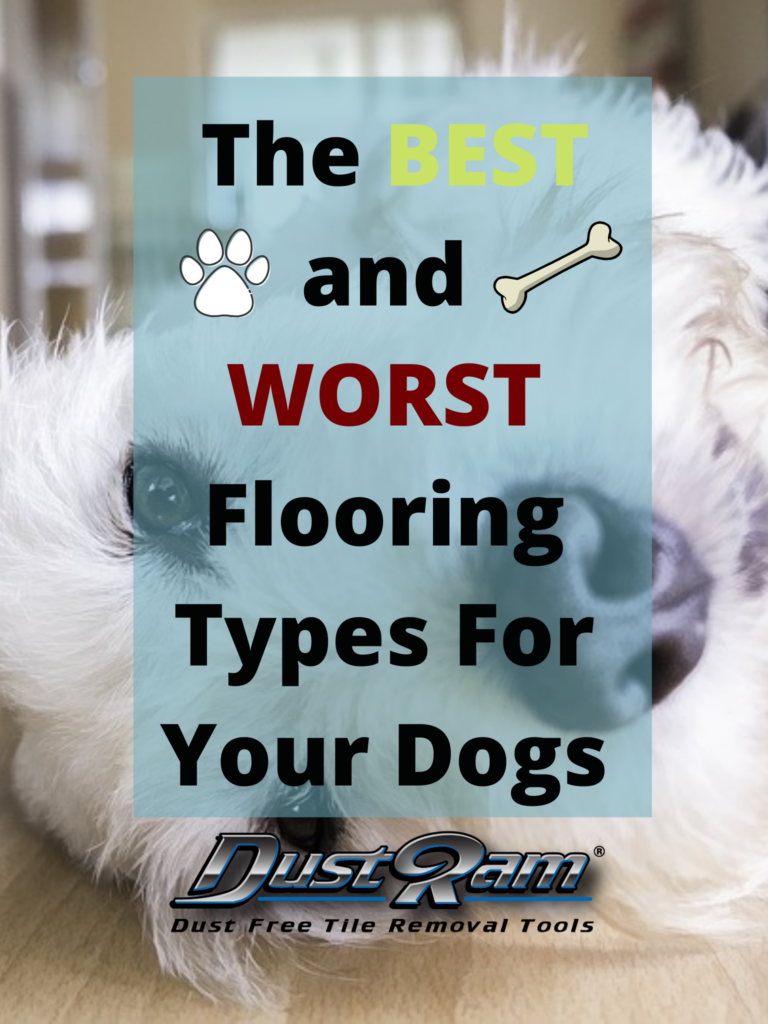 The Best and Worst Options
Finding the right type of flooring if you are a pet owner is extremely important because you want to choose one that will last! Finding a floor that both fits your personal style and accommodates your four-legged friend/s may seem like a huge challenge. But fret not as there are many options available that will work just fine for everyone. 
Follow along with DustRam® for a breakdown of what to account for and why it is important to have the right type of flooring for your dog.
🐾
🐾
🐾
🐾
Important Flooring Factors to Consider
First, you will want to get familiar with your breed and understand the kind of lifestyle your furry friend requires. Some breeds are easier to train than others making accidents more common in certain breeds compared to other ones.
Understanding your four-legged friend's lifestyle helps pinpoint what they prefer and how they move around on the flooring. This can often dictate which direction you go in as a dog owner.
Start with how resilient the flooring is. Is it going to do well when handling the dog's nails scraping across its surface throughout the day?
You will want to go with a type of floor that is easy to maintain. Having to repair it every month is going to ramp up the bills and not be worth it. A good floor should be maintained.
It is not ideal to have dog pee on the floor, but it can happen. Therefore water resistance is a must, or you are going to have significant staining on the floor along with damage. It is best to go with flooring that can withstand dog slobber and urine.
Comfort does matter. It is important for a dog to enjoy walking on the surface and feel safe too.
You are going to be on a budget and that does play a role in the direction you go in. Look to set a budget and then pinpoint which features matter to you while deciding.
🦴
🦴
🦴
🦴
Can My Tile Flooring Get Water Damaged?
6 Great Flooring Options for Dogs 🐾
Tiling is a common option that is seen around the world. It works. It is resilient, easy to maintain, and does not breakdown at the first sign of urination. This is good for those who have a dog that has a loose bladder. You can easily wipe the tile and it will be good to go. This ensures everything is easier to manage and looks good throughout the day too.
The only issue with this type of flooring would be how cold it feels. This might be difficult for the dog to walk in during the colder times of the year. It is also a harder material rather than a softer one like carpet. If you are thinking about going down this path, then it is best to look at porcelain tiles. These work well in providing additional durability and water-resistance.
Ceramic tile would also be a great option if you are disinterested in porcelain tile. There is a wider selection to choose from inside the realm of ceramic tile flooring. But unfortunately, this material is not nearly as durable as porcelain.
Related Content: Should You Replace Your Flooring Before Selling Your Home?
Vinyl has been around for a long time and is quite resilient as a flooring type. It is also water-resistance and budget-friendly too. This makes it a good choice for dog owners. You can get a comprehensive wooden appearance with vinyl flooring while knowing it will last for a long time. This makes it ideal for those who want a premium finish.
There are two options available to you – luxury vinyl planks and luxury vinyl tiles.
– Luxury vinyl planks are designed to look like hardwood floors. They are soft to walk on in comparison to the tiles.
– Luxury vinyl tiles are designed to look like tiles and maintain the same shape too.
With this type of material, you are getting something that will look immaculate and last for a long time. Vinyl flooring does well with pets. Vinyl is also easy to clean and gives you ample options to choose from.
This is a type of floor that is specifically designed to last longer compared to other options that exist. Laminate is a great flooring option for both for dogs and humans. You will notice how well laminate performs when it comes down to the scratching from your four-legged friend. Laminate tile also looks like vinyl and has the finishing you seek when it comes down to the texture. While it might not have much traction, it is still a solid flooring type to consider.
It is important to think about water damage with this flooring type. It is not as waterproof as the others. This is a con that you may want to weigh in when making your decision on the best flooring type for pets. Laminate is still rather easy to clean and does well against staining on the upside.
4. Engineered Hardwood Floor
If you are thinking about going for something that is close to hardwood, then this is one option available to you as a property owner. The idea here is to go with something that has a thin layer of hardwood at the top and mimics the look you are going for.
This type of wood lasts a long time and is simple to clean. However, it is not water resistance either and exposure may result in the buckling of your floors.
Related Content: Buckling Hardwood Flooring: Causes, Prevention, and Repairs
This is a unique flooring type to consider because it works like a charm in dog homes. The look of bamboo flooring is close to hardwood, and it lasts a long time too.
This type of flooring works because it is robust and easy to maintain. This makes it an excellent choice for regular use and high-traffic areas. However, it does not do well with moisture, but good maintenance will take care of that for you!
This is another fantastic flooring material that does well with dog homes. It is antibacterial and it is also good against mold, which makes it a good option for homes that are typically exposed to vast amounts of moisture. Cork is also easy to clean if your dog relieves itself on the floor at any given point.
The reason cork flooring is a functional option for homes with pets has to do with how soft it is underneath the paws. This makes cork ideal for the dog or other animal friends to walk on and it will also help lessen the pressure on their joints during the day. However, it is easy to puncture, which is not ideal due to a dog's nails.
What Are the Signs It's Time to Replace Your Flooring?
Which Floor Types Are Not Ideal For Pets?
Carpet is one option that is common in most homes, but it will not yield the results that you want. It is important to think about going with a flooring type that is easy to clean and won't stain so easily, which is not the case with carpeting.
Carpets stain rapidly and will damage to the point of no return if accidents are not controlled or somehow prevented.
While the carpet is soft underneath the paws, this does not mean it is going to age well with dogs around. Dogs will leave quite a mess on carpets and that can start to leave a lingering odor that is not appealing to the nose.
Hardwood is a flooring type that is aesthetically pleasing and has been around for quite some time. However, this is not a good option for a home with a dog. The reason has to do with it not being able to sustain moisture and that causes it to get damaged quickly. It is also not good with scratching and can get damaged over time more easily than other flooring types out there.
For those who do want to go down this path, look to go with the hardest wood type on the market. This will at least protect it from scratching as soon as the dog walks on it.
How To Keep the Floor Safe?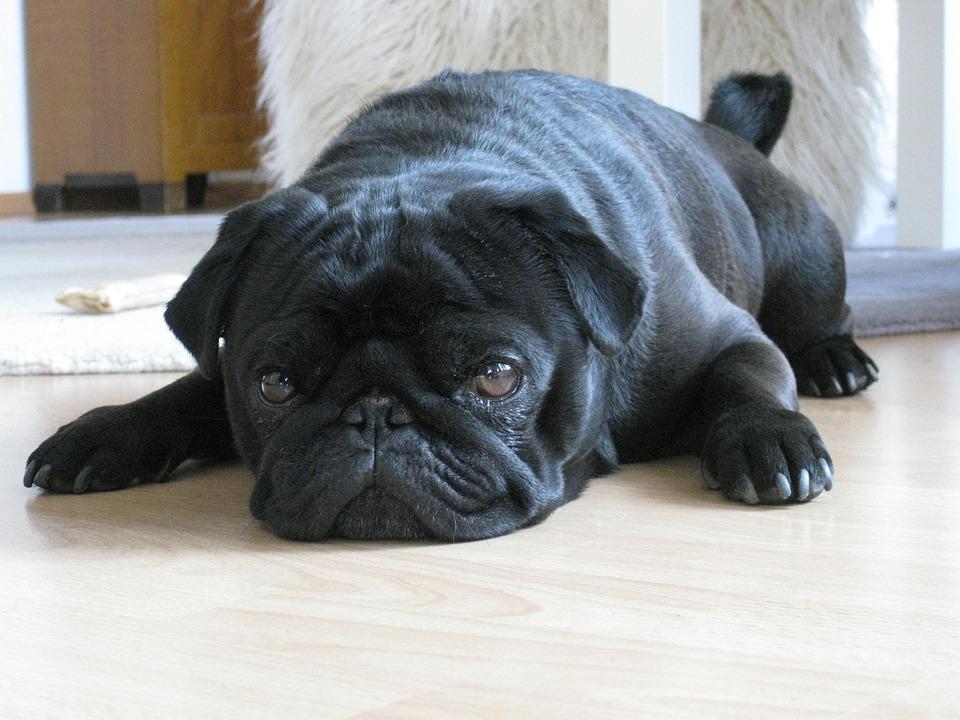 1. Clean Any Moisture Immediately
Let's assume the dog is walking on the floor and urinates. This is one of the more common aspects of owning a dog and it is not a pleasant issue to navigate around. However, if you act fast, you are going to lessen the damage regardless of the flooring type.
2. Keep the Dog's Nails Short
Longer dog nails are a real concern. You don't want the dog scratching everything just by walking around. This does happen when the dog's nails are not kept in check. You must stay on top of this to ensure things are done the right way.
3. Keep the Dog's Eating Area Clean
This is where most of the mess is. You want to reduce damage to this area by placing mats and keeping them as protected as possible. This will ensure any food or water that gets onto the flooring goes onto the mat. It should not fall onto the floor at any point.
You should create a schedule when it comes to vacuuming and/or mopping the floor. The goal is to ensure everything is removed from the flooring as soon as possible. Remember most of the damage that is done to the floor happens after 5-10 minutes are gone.
You will want to act fast and make it a habit. This is how you are going to see the type of results that will bring a smile to your face.
🐾
🐾
🐾
🐾
Ready to Replace Your Flooring?
Hire Dust Free Floor Removal Services by DustRam® for the Best Results
If you are ready to replace your current flooring with a more dog-friendly option, hire DustRam® for your dustless tile removal services. We capture 99.97% of cancer-causing tile dust preventing exposure in your home. Contact us today to learn more about our services or to get a free quote.