The Ultimate Guide to the Best Flooring for Kitchens
These are the best flooring options for kitchen spaces in 2022
Installing high-quality flooring in your kitchen is extremely important because this is a common high-traffic area in the home. As such, they undergo significant wear and tear, spills, heat, and constant plodding of the feet. 
It is no secret that not all floors are created equal…
Kitchen floors should be built to last and handle the different elements that are thrown their way. But sadly, the truth is that not all flooring materials are suited for the kitchen. However, there are a variety of kitchen flooring materials that would be fantastic for the kitchen area.
Therefore, we recommend homeowners consider durable options while still maintaining the delicate balance of style, function, comfort, and décor.
This is the only kitchen flooring guide you'll need on your way to choosing the best flooring for your home.
In this comprehensive guide, we are going to tackle everything you need to know about kitchen flooring. The different types of flooring, their benefits as well as their disadvantages. We will also dive into why it is important for kitchen floors to be waterproof, and much more.
Our goal is to help you make the right choice when it comes to kitchen floors. So let's dive right in!
5 key factors to consider when choosing a new floor for your kitchen
It's important for the floor to resonate with you… What we mean by this is that you must consider what you want, lifestyle, comfort, and anything else related. It all boils down to the five main elements below:
i) Your Personal Style
What style do you want to project in your kitchen? This is a question only you can answer. If you have identified your style sense, the kitchen floor should complement it. There are many kitchen styles, like the popular farmhouse look, rustic, modern, futuristic, and even cutting-edge contemporary. Do not forget to account for colors, patterns, and texture during the exploring stage to make sure you are getting the right flooring for your kitchen space.
ii) Lifestyle
In your kitchen, you are the star of your own cooking show. This means that just like in a restaurant or cooking show, the chances of spilling or dropping something are high. Also, if you have pets, kids, or a large family who often spends their time in the kitchen, we recommend going for flooring that can withstand the test of time.
iii) Comfort
Comfort is essential. If you spend more time in the kitchen stirring, dicing, and slicing, you should consider a kitchen floor that is not only resistant to wear and tear but soft on your feet. For example, if you choose tile, it will certainly last you a long time but it is uncomfortable to stand on for periods at a time. In this case, wood would be an excellent option to consider as an alternative flooring to tile.
iv) Cleaning
Tracked-in dirt and spills make the kitchen floor dirty. In fact, it tends to get grimy. For this reason, we recommend choosing a material that is easy to clean, stain resistant, and water resistant to minimize the time spent on maintenance.
v) Cost
Cost is an important consideration because it influences the type of material you receive and several other factors. Therefore, we recommend having a kitchen flooring budget when planning to remodel. To come up with a kitchen flooring remodeling estimate, consider measuring the total square footage. After this, research the kind of material you need and its cost. Do not forget to include additional costs such as underlayment, delivery costs, installation costs, and even removal and disposal costs. Learn more about dust-free flooring removal to prevent exposure to the cancer-causing silica dust.
By considering all these factors, you will have a better idea of what you want, how to go about it, and the approximate cost to get and maintain the flooring for your kitchen. 
What Flooring Types Are Best for Pets?
NOW, LET'S TALK ABOUT THE BEST KITCHEN FLOORING TYPES…
The moment you have identified what you are looking for, just remember that there are many options to choose from. Below are some of the best kitchen flooring ideas, benefits, and limitations.
Although it may be a surprise, engineered hardwood is a good material for kitchen flooring. Unlike normal hardwood (which is not intended to get wet), engineered hardwood is an excellent choice because it is not only water resistant but waterproof as well.
What is Engineered Hardwood?
Unlike normal hardwood, engineered hardwood is a finish of real hardwood that has been attached together to create strand plywood or board. The process makes the product stable and resistant to cracking or warping.
The
Benefits:
-Water damage resistance
-They promote authenticity because they are made of genuine wood.
-Easy to the feet
-Have soundproofing capabilities
The Disadvantages:
-Expensive to purchase and install
-Even if they are designed to be waterproof, they do not last long.
-If your kitchen floor is going to undergo a heavy and messy beating, it is important to note that you will have to invest in a serious maintenance schedule.
According to current emerging hardwood trends, in 2023 the market should expect lighter finishes and different varieties. While the cherry and walnut finishes will be somehow timeless and traditional, that is because they will feature lighter and more natural wood colors. Speaking of colors, the variety is a continuity trend, whereby in 2023 various color options are expected to be enhanced, such as dark wood mixed with lighter.
Just like the way we lay patterns for tiles, this is an option that is expected to be popular for enhancing interest. This is a case that we are continuing to see with diagonal and herringbone patterns. For example, mixing plank width has gained in popularity this year. Hardwood is a popular choice for many due to its benefits, recyclability, and environmental friendliness.
Buckled of Hardwood Flooring – Causes, Prevention, and Repairs
Tiles are flexible, durable, and extremely waterproof. For this reason, they have become the go-to kitchen flooring option for many.
The Types of Tiles
A majority of the tiles are made from either stone, porcelain, or ceramic. These are different materials used to make tiles, allowing them to have different properties and outcomes:
i) Natural Stone Tile
Different kinds of stones can be used to make tiles, like limestone, granite, or marble. Each natural stone material offers different properties that reflect the tile-based characteristics. However, the performance is the same.
ii) Porcelain Tile
This material is known for producing very smooth tiles. It is a refined clay that must be fired in a kiln at extremely high temperatures to increase its durability, water-resistant characterization, and stain resistance. Porcelain tiles are an all-around choice for your kitchen that is very affordable.
ii) Ceramic Tile
This type of material is less refined compared to porcelain. Because of this, it is far less resistant to water and staining compared to porcelain tiles. However, this is not a problem because they are rustic, cheaper, and rustic-resistant.
The best thing about tile is that it allows for different colors and patterns. What does this mean? It simply means that if you are looking to have a wood-like finish, there are many tile products that allow for this. Furthermore, tile is easy to install and very affordable. It is an excellent kitchen floor option if you do not have the budget or have a problem choosing between wood and tile.
The Benefits
-Tile is the best choice if you are looking for a scratch-resistant floor.
-They are highly resistant to wear and tear
-Superior waterproofing properties
-Tile is environmentally friendly.
-Installing tiles is simple.
The Disadvantages and Not So Appealing Aspects…
-Because they are water resistant, they are slippery (especially those made from polished stone and porcelain).
-Harmful to joints and the back
In summary, tiles are the best option for your kitchen, especially if the kitchen receives high traffic.
What Are the Signs It's Time to Replace Your Flooring?
3. LVT/LVP (Luxury Vinyl Plank and Tile)
These are multilayered forms of PVC flooring that are durable, waterproof, and affordable to install and buy. This is an excellent option compared to traditional options like solid hardwood. The best part about luxury vinyl is that it comes in both tile (LVT) and plank (LVP) forms. They look convincingly like stone or wood. The vinyl plank flooring is flexible and can be installed easily.
Do not forget the fact that they are the best if you spend most of your time standing up in the kitchen. In fact, the upgraded versions of LVP and LVT come with enhanced core layers known as EVP (a rigid core luxury vinyl). The layer helps one to stand easily for long periods of time without harming the feet and can withstand wear and tear. 
NOTE: Many people mistake LVT and LVP for peel-and-stick vinyl plank flooring. It is important to note that these are two different products. The peel-and-stick vinyl is not durable, and it is often considered a temporary solution. In other words, it is not the best option for long-term kitchen flooring. Learn about the differences between LVP and LVT. 
The Benefits
Because of its effectiveness, it is one of the oldest flooring options.
-Less expensive than hardwood
-Various designs are available
-Completely waterproof
-Comfortable
The Unappealing Side to LVT and LVP Floors
-They are not eco-friendly (they are made from plastic).
-Not all brands are created equal (there are numerous duds on the market).
-Do not have the best market reputation
NOTE: If you get a good brand (through a professional recommendation), you will experience no problems with luxury vinyl planks or tiles.
LVT vs LVP: Which Flooring Type Is Better?
This is another popular and durable kitchen flooring option. This type of flooring is the oldest form of housing flooring on the market. Today, natural stone signals luxury. It attracts buyers when one is selling their home.
Related Content: Should I Replace My Flooring Before Selling My Home?
Types Of Natural Stone
There are many types of natural stones whereby each offers different properties like durability, scratch resistance, and hardness. A few examples include: –
i) Marble 
This type of natural stone is known for its elegance. It comes with unique veins. However, when marble is polished, it may stain and scratch easily.
ii) Limestone
This type of natural stone is attractive and soft. Because it is soft, it can be used as kitchen flooring in low-traffic areas.
iii) Granite
This natural stone is available in tiles and slabs for countertops. Granite is not only durable but also comes with unique and attractive veins.
iv) Slate
One of the most sophisticated stones available. It can last for years if maintained and sealed properly.
v) Sandstone
Sandstone is well-known for its multicolored beauty. It is not as durable, which is why it is mostly used for kitchen countertops.
vi) Travertine
This natural stone is known for its Old-World appearance. Just like sandstone, it is not the longest-wearing natural stone on the market.
The problem with natural stone is that it allows water to pass through. Because of this, it can stain easily, which is a problem in the kitchen. Therefore they demand proper maintenance. In fact, it is wise to apply a penetrating stone sealer every year to create an invisible coat to protect the stone. The sealer needs to be reapplied often.
If the right conditions are met, laminate can be the best kitchen flooring for you. Although laminates are quite popular, many people confuse them with engineered hardwood.
That leads us to the million-dollar question… what exactly is laminate flooring?
Well, in a nutshell, laminate flooring is similar to engineered hardwood because they are both wood-based composites. However, the difference is that it is mostly fiberboard and appears to be similar to plywood. That is where the similarity between engineered hardwood and laminate ends. The laminate is protected by a durable layer. Laminate tile can be designed to look like almost any material.
Laminates are sold as a less expensive substitute for engineered hardwood. Therefore, it is paramount that you choose one that is water resistant. Consider laminate products like AquaGuard laminate because they are waterproof and will not disintegrate with exposure to liquids.
The Benefits
-They are waterproof (a collection of RevWood from the product Mohawk laminate is excellent at keeping water at bay)
-They work similarly to LVP and LVT with a wide range of styles
-It is affordable to install laminate floor compared to real hardwood
-Laminate does not contain harmful products to the environment or people
The Disadvantages of Laminate
-You have to identify the best on the market
The truth is that when it comes to laminate flooring, the experience is a bit of a rollercoaster when it comes to finding the right supplier and product. However, our recommendation is to invest in something that is humid-resistant.
Sheet vinyl is the best choice for your kitchen flooring if you are on a budget. This flooring type was quite popular in the 1960s and 70s and still survived the innovation and upgrade of LVT and LVP. Sheet vinyl is a single sheet of plastic known for its durability and ability to withstand wear and tear. However, it is important to note that it is not as durable as LVP and LVT options.
The Pros
-Very affordable
-It is waterproof
-Come in various designs (for example wood-like). However, we will not go into its authenticity
-They easily stick to tiles
-Available in different patterns
The Cons
-They are not intended to be flashy
-Do not last as long. They are durable enough to handle light traffic without issues.
-Difficult to install without training (one has to cut its size and lay it down carefully)
-If installed poorly, bubbles will form or it will wrinkle
-Harmful to the environment
What is cork flooring? Why is it a good kitchen floor? Well, cork flooring is made from the same material that is used for capping wine bottles. The best thing is that they are natural, wood-like substances that are extracted from the cork tree. This substance can also be used for insulation or correcting the flooring slop.
When the substance has been extracted from the cork tree, it is powdered, boiled, and then mixed with a natural resin before being shaped into sheets, tiles, or planks.
The Benefits
-It is an eco-friend. Cork is beneficial to the environment because it is naturally sourced and produced by a cork tree.
-Cork flooring comes with a springy feeling
-It can be styled in many ways
-If installed properly, it will remain waterproof and durable for many years
The limitation
-Cork flooring demands constant maintenance
-Exposure to liquid will completely destroy it
-One has to apply sealant regularly as well
-Many big box store cork flooring options are often not well made
-Cork flooring is not appealing to home buyers and may hurt the resale value of a property.
Concrete is the mother of kitchen flooring. Because of this, it is also considered to be the best option for basements. The surface of concrete is not only durable but also cheap to make, easy to clean, and extremely waterproof. In fact, concrete is an option for many people who are on a budget and looking for something that is steady.
The Types of Concrete Flooring
It is important to note that there are several types of concrete flooring. What does this mean? It simply means that you do not have to keep your concrete kitchen flooring blank. You have the option of polishing, painting, and texturing it. You can make concrete flooring that looks like wood or tile. The options are unlimited and based on what you want.
The Benefits
-Concrete floor is easy to install
-With some exceptional, concrete is fairly inexpensive
-Concrete is highly durable and waterproof (it is extremely durable and waterproof to the point where it is used in business establishments and dams).
The Limitations
-Once settled or dry, you cannot pamper it anymore without destroying it
-Concrete floors are not comfortable to the touch of the feet, joints, and back
-They cannot be purchased at the store. This means that for you to have a concrete floor, you can either DIY it or call a professional.
-You cannot install concrete on a non-concrete subfloor
Solid hardwood can still be used or installed in a kitchen as the floor. In fact, it is the easiest and most convenient option. However, it is important to note that installing solid hardwood flooring demands care and regular maintenance. Remember, installing solid hardwood in the kitchen will be no different from installing it in the bathroom. The best thing is that there are many coatings available on the market that you can take advantage of. The wood coating will turn the regular hardwood into a water-resistant floor.
Solid hardwood gives off a timeless and attractive look. All you have to do is find the best brands on the market. Do not forget that solid hardwood (not engineered) demands constant maintenance.
The Benefits
-Solid hardwood gives you different options. In other words, there is so much you can do with it.
-Hardwood tree species such as oak or hickory offer some degree of water resistance. This means that an ordinary spill is not lethal or harmful as long as it is dealt with immediately.
-Offer an excellent appeal
The Limitations
-Solid hardwood is not the best option if your kitchen experiences high traffic.
-Solid hardwood does not handle regular kitchen spills and heat (temperature swings) well
-Expensive to maintain
-Expensive to buy and install (even installing the most common type of hardwood – oak wood can easily double in price compared to what you would use while installing laminate or LVP/LVT)
The good news is that there are ways to counter the limitations. The only way to do this is through regular maintenance and constant refinishing. We recommend hiring a professional to install solid hardwood for you because it is super challenging to install.
Bamboo kitchen flooring falls under the same category as solid hardwood. A bamboo kitchen floor can be installed but will demand high maintenance. Moreover, you will need to be careful with liquids and environmental changes. Nevertheless, it is a great alternative to solid hardwood.
Types Of Bamboo Flooring
Bamboo flooring comes in three different types. These are:
i) Engineered bamboo 
Engineered bamboo flooring, like engineered hardwood, is made up of bamboo planks that have been topped with a layer of durable and water-resistant coating.
ii) Strand Woven
This is the most expensive yet durable solid bamboo flooring. Strand woven is made of pulped bamboo that has been pressed to create dense blokes of material.
iii) Solid bamboo
This type of bamboo flooring is processed by bonding slices of bamboo together. The end product is solid bamboo that can be ideal for your kitchen.
It is important to note that bamboo flooring may be more expensive than hardwood. Moreover, it is quite difficult to refinish because it does not have a natural grain direction. Although refinishing the bamboo flooring may be possible and may demand the services of a professional, it is still a good option. Engineered bamboo, according to our findings, handles the factors found in a kitchen better than solid options. As a result, the benefits and limitations of bamboo are similar to those of hardwood.
The Benefits
-Eco-friendlier compared to hardwood. The primary reason why people will prefer bamboo over hardwood is the level of its environmental friendliness. They behave similarly to hardwood but are harvested after a few years compared to decades with hardwood.
-Completely natural
The Limitations
-Just like hardwood, it needs constant care, maintenance, and refinishing.
-Bamboo flooring is not in abundance
-They are expensive
NOTE: Aside from these limitations, bamboo is a great kitchen flooring option.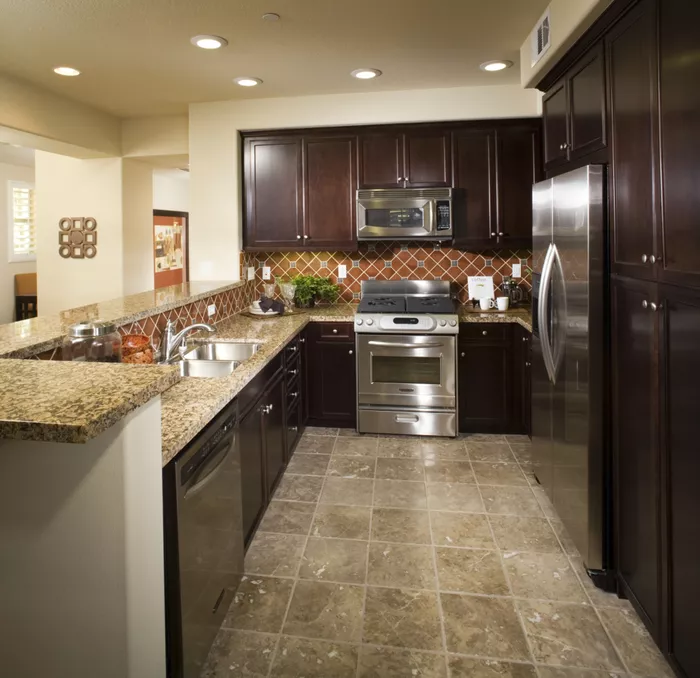 The last and final kitchen flooring type is linoleum. Linoleum is made from natural materials and can easily be compared to laminate. In fact, people confuse linoleum with sheet vinyl because they look and feel relatively similar. If you compare linoleum with laminate, you will immediately identify that the two have different structures. On the other hand, unlike sheet vinyl, linoleum is made from linseed oil, natural fillers, and different resins.
NOTE: Although linoleum is not completely waterproof, with the help of a proper coating, it can be. It is friendly to the environment, and it is among the oldest flooring options. In fact, it was invented in the early 1900s.
The Benefits
-It is durable and affordable.
-It mimics other floor types
-It is biodegradable
-It can be sealed like cork flooring to improve its water resistance capabilities
-It is soft to the foot, joints, and back
-It can be produced sustainably
-Can be installed in a floating style
The Limitation
-It is not water resistant without being sealed
-The money you save will go to maintenance, installation, and making it water resistant
-It can be ruined easily during installation
-It is harder to find linoleum
-Comes with a limited number of styles
THE FREQUENTLY ASKED QUESTIONS (FAQs)
Now that you know the best kitchen flooring types, let's go over some of the frequently asked questions.
Question: What is the most durable kitchen flooring?
Answer:  Concrete
Technically, concrete is the most durable type of kitchen flooring. Not unless you walk with a jackhammer on your kitchen floor, in which case there is nothing that can break it. The second best durable flooring is LVP and LVT. The best thing about them is that they offer more styling options compared to concrete.
Question: Can I Install a Flooring in A Floating Style?
Answer: Yes
It is possible to install kitchen flooring in a floating style. However, it is important to note that it is highly important to install it perfectly and protect it against moisture and liquid. Do not forget that good kitchen flooring is designed to be waterproof and stain resistant. With the floating style, it can be difficult to install them properly by yourself. Therefore we recommend speaking to a professional for help. (Go through our guide if you do not know what a floating floor is)
Question: Which is the easiest kitchen flooring to clean?
Answer: LVP/LVT
Out of all the kitchen flooring types mentioned in this guide, the easiest to clean is the LVT/LVP (luxury vinyl planks and tiles). That is because it is made of plastic, which makes it resistant to stains. Of course, it is easy to clean concrete flooring, but it can be stained. As we have mentioned in our kitchen flooring guide, the best floor should not only be durable but resistant to water and stains.
Question: Can Flooring Go Under Cabinets?
Answer: It depends.
Installing kitchen flooring that goes under cabinets is unnecessary unless you plan to install or reinstall the cabinets later. On the other hand, kitchen flooring surfaces like tile and concrete can support the appliances and cabinets. However, when it comes to floorings like LVP or LVT, they are not meant to carry a lot of weight for a long time. Therefore, the whole thing will depend on many factors, such as the flooring itself, your preference, and more. Just take your time and identify what you need.
Question: Are luxury vinyl tiles and plants good for my kitchen?
Answer: Yes
Brands like Pergo Extreme and Proximity Mills have high-quality luxury vinyl tiles and planks. (To better understand these products, check out our Pergo Extreme review). You will clearly find that these products are the best flooring for the kitchen. In fact, they are a good all-around flooring solution for your home. Therefore, if you had doubts about LVT or LVP, do not worry because they are the best.
Question: What is the newest trend in kitchen flooring?
Answer: Many new trends in the kitchen flooring world!
Its great news is that so many new trends are taking place in the world of kitchen remodeling and flooring. For example, different types of wood flooring have started to pop up in kitchens. On the other hand, protective coatings and engineered wood have increased in popularity. The LVP/LVT offers timeless options.
Question: What is the most popular kitchen flooring?
Answer: Fake wood flooring
Popular among people are vinyl planks and tiles that look like real wood, while other classic options are also popular. That is because they are not only effective at keeping water at bay, but also offer some level of appeal to a home. 
Question: Is It a Good Idea to Install Laminate Flooring in My Kitchen?
Answer: Only if you are willing to put in the work
Remember, laminate flooring is not waterproof like many other flooring types. However, using sealing products, you can make it waterproof. Therefore, the question is, are you willing to put in the work to constantly seal it? Are you ready to hire a professional regularly to help you with this process? If the answer is yes, then laminate is an excellent flooring solution for you. In fact, we recommend investing in high-end laminates such as AquaGuard and Mohawk's RevWood laminates. We do not recommend installing laminate that is not waterproof.
Question: What kitchen flooring company do we recommend?
Answer: N/A
We do not endorse any company. We mention things as they are based on our experience. For example, we recommend going to local flooring stores rather than the big box stores. That is because local stores tend to have more quality products than big box stores. Moreover, with local stores, you will get different expert opinions and advice based on your needs.
Question: What should I put on my floor?
Answer: It depends on you.
There are many things you can add to your kitchen flooring. It all depends on what you are looking for and want to achieve. With this in mind, we have some recommendations. First, do not place anything that will make your floor slippery. This is a bad idea, especially if you cook often. You do not want to slip while cooking. Secondly, consider adding some mats. They are popular for a reason. Mats make the kitchen floor safer by eliminating slippage.
Question: What is the best flooring for both my kitchen and living room?
Answer: Waterproof laminate and vinyl planks.
Waterproof laminate and vinyl planks are the best options for both your kitchen and living room. That is because it offers a balance of both performance and comfort. With these options, you will never have to worry about spills. Moreover, they come in different styles, like the classy hardwood style.
Question: What is the best flooring for a small kitchen?
Answer: It does not matter.
In this case, the type does not matter, because everything depends on you (what you want and plan to achieve). The only advice we can give is that you should consider choosing flooring with bigger or wide tiles or planks. This will make the small kitchen feel bigger.
Question: What is the best kitchen flooring for high traffic?
Answer: Concrete and vinyl flooring
Concrete and vinyl are both excellent choices. Classic tiles come in second when it comes to high-traffic kitchens. However, we would choose vinyl over concrete because of the comfort it provides. Remember, although concrete is extremely durable, it is not comfortable.
Question: What amount will it cost to replace kitchen flooring?
Answer: $3 – $10 per square foot 
The truth is that replacing kitchen flooring is not cheap. It will depend on what you are looking to achieve. For example, snapping together cheap products will make replacement easy, fast, and cheap, but at the same time, they will not last. On the other hand, labor-intensive options will cost you a lot of money, time, and effort; but the outcome will last a long time. Therefore, coming up with an accurate estimation is difficult. The average cost is typically $3 to $10 per square foot.
That is because, aside from the type of flooring you have chosen, you will have to account for the removal of the existing floor, disposal amount, installation costs, and more. The best way to get an accurate estimate is by contacting an experienced kitchen flooring contractor.
Question: Should I hire a professional or DIY?
Answer: Let us expound!
When it comes to kitchen flooring installation, many factors come into play. All these factors revolve around three primary groups, the contractor, yourself, and the type of flooring. When it comes to the contractor, one has to look at the work they deliver, their skill level, delivery, professionalism, access to flooring materials, and much more. These factors also apply to you. When it comes to the material or type of flooring, there are those that are simple to install and do not need any particular skill, while others demand high-level skill to achieve a perfect outcome.
Therefore, one has to look at their level of ability before attempting a DIY project. Without knowledge or skill, you may turn a simple installation project into a nightmare and make it expensive. We recommend people undertake DIY projects when the project itself is small and the end results do not really matter that much. Therefore, since kitchen flooring projects are often bigger projects, we recommend seeking the services of a professional. Do not take the risk.
On the other hand, floating vinyl plank flooring is easier to install compared to glue-based vinyl plank flooring. That is because, with the glue-based vinyl plants, you will be required to click the planks together carefully to get the best result possible. It is wise to note that a majority of companies void their product warranties when the installation is a DIY project. That is because they will claim that the problem is with you and not their product. Because improper installation can ruin flooring, many companies are discouraging DIY projects in favor of seeking the services of a professional installation contractor.
Do not forget that if the subfloor is not perfect, you will be required to repair or find a floor that can accommodate the imperfections. In a nutshell, DIY projects are good when you have the knowledge and skills to work on them. Moreover, it is perfect when the project is small. Otherwise, always consider seeking the services of a professional.
With all this information, you may wonder, what is the best kitchen flooring for me? Well, everything comes down to you. In other words, what do you plan to use? What do you plan to achieve? What is your budget? What is your flooring maintenance schedule? All these are factors that will influence the flooring you get.
To us, vinyl planks and tiles score the highest across different areas. For example, it is durable, comfortable to walk on, water resistant, stain resistant, and can handle high traffic. If you do not mind the work that comes with maintaining high-profile kitchen flooring, then we recommend engineered or solid hardwood, mainly because of its beauty. If you do not love the work and prefer the traditional option, then you can choose tiles. In fact, tiles are popularly used as kitchen flooring.
Let's not forget the others. They all have something to offer. If you are still on the fence regarding the best kitchen flooring to choose from, consider going to your local flooring store. While there, you will receive all the relevant information and advice from a professional. Always consider going for top-rated flooring options. Do not forget to seek the services of a skilled and experienced flooring expert for your project. Do not risk it. You never know, you may get the best deal.